Who am I?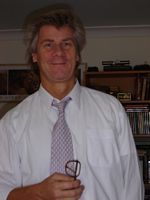 I was born in the Northern part of Germany. I migrated to Australia 1982.
Mesmerised by the Australian nature, climate and culture I had various non-counselling jobs. I was a small-goods & delicatessen maker, stockman, horse trainer, taxi-driver, courier.
After I finished my academic studies of becoming a Professional counsellor in 2005, I concentrated my skills and efforts to empower men, especially those men who have psychological difficulties that are triggered by women, e.g. fear of rejection, sadness, separation, emotional pain, anger, suicidal thoughts and so on.
I helped men through my websites and without fee on the volunteer bases
Where do I work?
I work from home, using mostly Skype. I find Skype exceptional convenient for the client & myself, as no travelling time occurs for the client and can be conducted in the comfort of home / office.